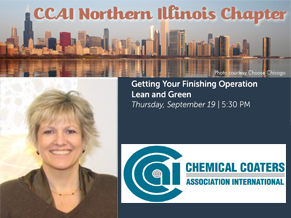 Join the CCAI Northern IL Chapter for 2 great presentations. The first presentation will be on Lean Manufacturing by Marty Sawyer from Trimac Industrial Systems. Although the goal of Lean Manufacturing is to reduce costs and speed-up production with less waste, it is never as easy as it seems. Learn about the most innovative ideas for bringing Lean in the design and daily processes of your paint and coating operations. Marty will share ideas on how to reduce your Time on the Line, operating costs and WIP.
Joe Smith from Houghton International will give a presentation about a proven approach combining innovative chemistry with related equipment to allow users to eliminate all process discharge from their spray washers. A common problem for manufacturers is the expense and effluent discharge liabilities of the process water. Joe will also be discussing two case studies including both powder coating and electrocoat applications.
Biographies: Marty Sawyer is the CEO and owner of Trimac Industrial Systems, a heating and cleaning technologies company. Marty has been a driving force behind the education and promotion of the cost, quality and environmental benefits for the use of infrared for process heating. Marty is also the President of the Central States Chapter of CCAI and an active member of CCAI.
Joe Smith is a Surface Finishing Specialist for Houghton International Surface Finishing division. Joe specializes paint pre-treatment and specialty cleaning chemistry and processes. He as a BS in Chemistry from Illinois State University.
Location:
Paisan's Pizzeria & Bar
2901 Ogden Avenue
Lisle, IL 65032
Time:
5:30PM – Registration and Networking
6:00PM – Appetizers and Dinner (Cash Bar)
6:30PM – Presentations
8:00PM – Wrap-up and Networking
Cost:
$20 Members / $30 Non-Members
Registration: CLICK HERE to register.